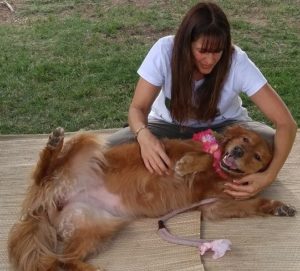 Your pet's massage session will begin with an overall assessment
The assessment is used to get an overall picture of your pet's current mental and physical state.
The assessment consist of the following :
Visual Observation – Mental and physical
Listening/Smelling
History of your pet to include where he or she came from, what you know about  his or her parents' daily routine and lifestyle, diet, medical history, quirks, etc…
Physical examination of Coat/Skin, Muscle Condition, Eyes, Nose, Ears, Mouth, Teeth and Gums, Reaction to touch and Overall Body heat patterns
Observed Gait and Movement how is the pup moving is it fluid and even is it stiff or short stepped or is there a limp or hesitation etc
Once this has been completed  we will again check in with your pet and ask permission to begin the session.
Sessions may last anywhere from 30 minutes to an hour… it all depends on what your pet is up for on that particular day.